Kenya widens mall attack probe, alert for UK 'White Widow'
Barnes & Noble's innovative lighting technology shines uniformly across the display and adjusts with just a touch, so customers can control the amount of light, whether in a dimly lit or pitch dark room. NOOK Simple Touch GlowLight, as well as the critically acclaimed NOOK(R) HD and NOOK(R) HD+ tablets, are available at major UK retailers including Argos, ASDA, Blackwell's, Foyles, Currys and PC World, John Lewis, Sainsbury's and Very, both in stores and online. NOOK now has the most affordable line of eReaders and tablets in the UK. Customers can purchase the 7-inch NOOK HD for just 79 (8GB) and 99 (16GB), while the 9-inch NOOK HD+ tablet is available for just 129 (16GB) and 149 (32GB). For more information visit NOOK.co.uk. Additional NOOK Simple Touch GlowLight Features: — Shop 2.5 Million Books and More: NOOK wirelessly connects via Wi-Fi to the NOOK Store(R) (NOOK.co.uk), one of the world's largest digital bookstores with more than 2.5 million digital books, including more than 1 million free titles. As well as top-selling UK eBooks, new releases, classics, favourite UK newspapers and magazines, the NOOK Store also offers a large collection of titles from independent publishers and self-publishing authors through the NOOK Press(TM) programme. — Light, Compact and Portable: Its easy-to-hold, contoured design and soft-touch back make it comfortable to read for extended periods of time. The durable and lightweight device is compact enough to fit in a jacket, pocket, handbag or backpack and is lighter than a paperback, at less than 200g. — Long-Lasting Battery Life: NOOK Simple Touch GlowLight is optimised for extra-long battery life, enabling customers to read over one month on a single charge with the light on, or over two months with GlowLight off.* — Easy-to-Use, Responsive Touchscreen: Its intuitive touchscreen allows customers to look up words, highlight passages, adjust the font and search. A Personalised Experience: Customers can make the NOOK experience their own, and can choose from several font sizes and styles to customise their favourite reads.
Senior Labour MP Margaret Hodge, chairwoman of the House of Commons Public Accounts Committee (PAC), said the awarding of all 26 rural broadband contracts to British Telecom (BT) had left the company in a "quasi-monopolistic position". The PAC report said the Department for Culture, Media and Sport (DCMS) mismanaged the project, and BT was exploiting its dominant position by restricting access to cost and roll-out information. "Too many people will not be able to access super-fast broadband because BT will have failed to deliver it to them," Hodge told BBC Radio 4. "The taxpayer has been ripped off with ??1.2 billion going to the shareholders of BT." The tender process which began in 2011 drew criticism when just two service providers – BT and Fujitsu – were named as approved bidders, with Fujitsu eventually dropping out. Hodge claimed BT was using its dominant position to keep details of local projects confidential, "preventing other suppliers from developing schemes aimed at reaching the remaining 10 percent of premises" still without broadband. The report said that the remaining 18 contracts, due to be granted by 2017, are also likely to go to BT. Hodge said local authorities are contributing over ??230 million more to the programme than forecast in the department's business case, while BT is committing over ??200 million less. She said this, combined with the DCMS admitting the programme would be delivered two years later than planned, meant consumers were "getting a raw deal despite the generous public subsidy". The report said the department accepted contract terms that were "overly generous" to BT but the government argued the tendering process had been fair, while a BT spokeswoman said it was "disturbed" by claims in the report which were "wrong". She said the company had been "transparent from the start and willing to invest when others have not. "It is therefore mystifying that we are being criticised for accepting onerous terms in exchange for public subsidy – terms which drove others away.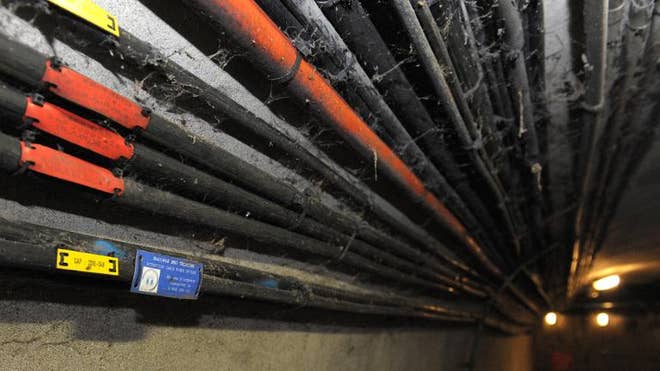 Almost a third of UK respondents said these issues have significantly slowed adoption and 29% say they have affected it to some extent. This comprises a total of 86%, compared with an average of 76% across all countries surveyed. Financial services (36%), petrochemicals (39%) and healthcare (27%) organisations are most affected by legislation and compliance issues, citing them as the primary reason for slow cloud take-up. The global study polled decision-makers in 700 organisations across the UK, North America, Germany, Scandinavia, Singapore, Japan and Hong Kong. While 36% of UK companies have adopted cloud in the past 12 to 24 months, 22% have yet to adopt it, compared with an average of 14% globally. Although just 10% of UK respondents have already moved most data and services into the cloud, 42% will transition it in the next two years and 18% after that. Yet, 30% said they will never move their data, a figure only topped by Scandinavia with 42%. With increasingly complex data laws in the UK, it is become something of a minefield for businesses looking to become more agile and efficient using cloud, but perhaps feeling they are being held back. This is exacerbated by the fact that businesses in the UK typically have a much more conservative approach to cloud adoption than other countries, said Tom Salkield, director UK professional services at WideAngle. Businesses in the UK risk lagging behind because they are not exploiting the opportunity and potential of cloud computing to the full, Salkield told Computer Weekly. The study shows that UK companies using cloud services see significant business advantage in business agility and cost savings, said Salkield. According to the survey, 40% of UK respondents acknowledged an increase in revenue and 23% an increase in profits from cloud computing. Despite concerns, when asked which infrastructure they would choose to deliver secure services to the business, 42% of UK respondents opt for some form of cloud, with 22% selecting private, 19% hybrid and 1% public cloud. But when questioned about regulatory issues, 48% would choose a corporately owned datacentre and 20% a third-party hosted datacentre as the best way to comply with regulations, with less than a third opting for a cloud model. Although at risk of lagging behind because of a conservative approach, the 36% of UK organisations polled said they had adopted some form of cloud in the past two years. The UK adoption in the past two years was followed by Germany (34%), North America and Singapore (31%), Japan (25%), and Hong Kong and Scandinavia (18%). Range of enthusiasm for cloud According to the study report, all organisations fit into five cloud personas defined by their levels of enthusiasm for cloud computing and the extent of their adoption. Ranging from "Controllers" at one end of the scale, distinctive by their lack of cloud enthusiasm, the five personas also include "Accepters", "Experimenters", "Believers" and "Embracers" – the latter the most enthusiastic about cloud who have benefited most from its use. What's interesting is that it is possible to see attributes of these cloud personas identified in the report in different countries, although we defined them on a global level, with the UK falling into the 'Controller 'and 'Accepter' personas, said Sidaway.
UK Basketball: Towns Jr. excited about Ulis commitment, still recruiting others
Our father-son bond is strong. When we are in the gym, we are just like any father-son. We argue. We fight. He wants to do it one way, I want it another way. But once we put in our work, its all love and respect. In the gym its business, and he loves his time in the gym. Ive always told him his work and sacrifice would pay dividends, and it has. Now the New Jersey senior is ready to hopefully lead his team to another high school state championship. I am doing everything I can working out that will help me down the road at Kentucky. But what I am doing right now will also help my team this year, Towns said. I cant wait for the season to come around. Weve had so much success and I want to keep that going or maybe even have more than we have the last two years. Towns sounded like he might back off his plan to play baseball hes a first baseman/pitcher after basketball ends. I did get in the batting cages overseas, Towns said. Right now I have to worry about basketball season. After that I may need to be training for Kentucky, or I may play baseball. If he doesnt play baseball, that could give him more time to play golf.
UK risks falling behind in cloud adoption, report reveals
Although the Red Cross lists 71 missing people, the government said it does not expect a big rise in the death toll. Part of the Westgate mall collapsed in the siege, burying some bodies and hindering investigations, although forensic experts have started work while soldiers search for explosives. Officials said some blasts on Thursday were controlled ones. "The army are still in there with the forensic teams," said one senior police officer near the mall. Mombasa police said they were tracking a network of suspects linked to al Shabaab in the coastal region, home to many of Kenya's Muslims, who make up about 10 percent of the nation's 40 million people. Most Kenyans are Christians. "We have four suspects within Mombasa who we are closely watching. They came back to the country after training in Somalia," country police commander Robert Kitur told Reuters. Another counter-terrorism officer, who asked not to be named, also said four suspects were being tracked and added that two well-armed suspected militants killed in an August operation could have been planning a similar attack in Mombasa. "I will be surprised if they don't link the Nairobi attackers to those terrorists we killed in Mombasa," he added. DENTED IMAGE The mall attack has dented Kenya's image as a tourist destination, damaging a vital source of revenues. But rating agency Moody's said that although the attack was "credit negative" it would not affect foreign direct investment or a planned Kenyan Eurobond later this year. In 1998, al Qaeda bombed the U.S. Embassy, an attack that killed more than 200 people.